Russian captain Khovanov: "Our only goal is to win"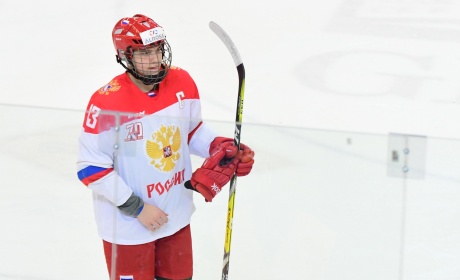 After falling in their first game of the tournament, 4-3 at the hands of the United States, the Russians bounced back in a big way with a convincing 6-0 victory over previously unbeaten Sweden on Friday afternoon. They were led offensively by captain Alexander Khovanov, who had three goals and one assist. He answered a few questions after the game.
Your win against the Swedes went relatively smoothly, 6-0. How do you evaluate the game from your perspective?
"We played a very good game. We followed the game plan set out by the coaching staff. Everything they wanted us to do, we did, and that´s how we got the result that we did."
In the game you scored a hat trick. How do you feel about that? ?
"I feel very good. Yesterday I couldn´t have done that, but this was a new game and we managed to play it differently. I wasn´t happy with the way I played against the US, but this game I played better."
You also had a chance at another goal on a penalty shot, but you were stopped. Did you know in advance what you were going to do there? ?
"I didn´t have anything special in mind. I just took the shot as usual, but the goalkeeper reacted well, so I wasn´t able to beat him."
After two games you have three points. What are your goals for the weekend games? ?
"As a team, our only goal is to win. We prepare for every opponent that awaits us. After yesterday´s game, the entire team focused on winning and playing our game."
You are the captain. Is that a big responsibility? ?
"Yes, it´s a big responsibility. I try to help the coaches in contact with the players and talk in the dressing room."
Facebook
Partneři